The worlds mast Advanced Foot and Calf Massager
SYNCA's cutting edge calf massage with patented Japanese massage technology
Feel the tension melt from your legs
SYNCA foot massager is the perfect fix after a long day of walking or standing.Prolonged walking, standing, and sitting can cause swelling and soreness in the lower legs.
The Nest Plus massager will release muscle tension and improve circulation so you can feel relaxed and rejuvenated.
Effects and efficacy
Reduces fatigue, Alleviates muscle stiffness and soreness, Improves blood circulation, and Reduces swelling and inflammation in the feet
Features of the SYNCA foot massager
Patented 3D Massage Mechanism

Enjoy deep tissue calf massage at home with the worlds most advanced calf massage robot

Adjustable Calf Height

4 calf height settings to accommodate different leg lengths

Adjustable Strength

4 strength settings to find the right amount of pressure on the calf and sole of your foot

Infrared Heat Therapy

Help improve circulation by penetrating deeply into the bodies tissues
Foot sole massage
Whole body health with Reflexology
Foot sole is where peripherical nerves called "Reflex Zone" are concentrated and connected to organs.
It is known that massaging foot sole stimulates the function of related organs.
Powerful Massage with Unique Foot Roller Mechanism
Most of foot massagers with airbag works very gently, however, our foot massager realizes strong massage by stimulating toe, arch and heel with unique Foot Roller mechanism in addition to air bag.
Powerful massage will relieve your leg fatigue.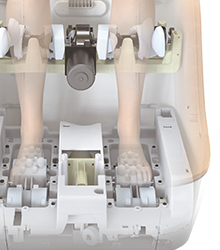 Calf massage
Massage Your Calves Thoroughly
We dedicated a lot of effort specially focusing on the feel of calf massage.
Our original Calf massage mechanism was developed for those who are not satisfied with existing air bag massagers. The feel of squeezing calves is that of professional esthetic salon.
It prompts blood circulation and heals tired legs.
Points of SYNCA Foot Massager
POINT
Five Different Auto-Programs Available
There are five different auto-programs including kneading, acupressure and rolling.
You can enjoy a message that suits your mood and body condition.
Reflexology Mode

Intensively massage your foot sole

Calf Mode

Intensively massage your calf

A shooting, gentle massage

Energize mode

Medium intensity

Toning Mode

Strong intensity

Strong massage and stimulate
POINT
Speed and Strength as you like
You can adjust the speed and strength of the massage on the control panel.
POINT
Heat Therapy with Heater
The heater function gently warms up your calve and feet to support a more effective massage.
You can easily switch the heater on/off with one touch
POINT
Adjustable Calf Height
The highest position of kneading ball can be adjustable to fit your calf.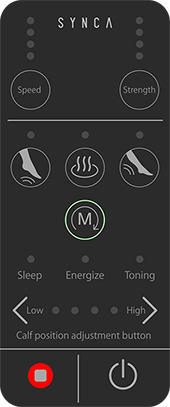 iF Design Award Winner
The SYNCA foot massager won the 2017 IF DESIGN AWARD, the greatest design award in Germany and one of the most prestigious design awards in the world.
iF receives over 5,500 entries a year and selects only the best designs in the world.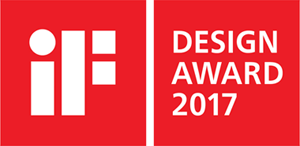 Design so beautiful you want to show it off
Its stylish design and shape matches any furniture.
Place it by your favorite sofa or chair, or just use it anytime you have spare time to relax - even if you have just a few minutes.
Color variation
Beige

Red
Product Specifications
Product name

Foot massager FM210 (nest)

Voltage

AC100V 50/60Hz

Rated power consumption

Max.80W (Heater 25W)

Rated time

Approx. 15 min.

Size

Approx. W490 x D590 x H488 mm

Weight

Approx. 18kg