A whole new massage experience that allows both body
and mind to be at their best.
There have been changes in the way we live and work. Stress and fatigue are everywhere and to be at our best we need to take care of both our mind and our body.
CONDITIONING MASSAGE
We created conditioning massage therapy to improve your physical, mental, and overall well being.
HEALTH
AI powers the world's most advanced body scan technology ensuring you get the best possible massage every time you sit down.
Fujiiryoki AI Technology
Through the AI, the control system automatically passes the user's body shape,
muscle status, and other biometric data into the massage.
Intensity, techniques, and rhythm of massage are adjusted according to each user.
Analyzes data collected from 8 key points on your back to determine up to 16,800 different body types.
AI Double Sensing +
NEW
Most massage chairs only perform a limited detection along the frame of the massage chair at set points measuring the length of your back, taller users and petite users will find the rollers don't hit them where they want because their backs don't evenly line up with fixed points on a frame. Using the JP-3000 AI body scan the massage chair first locates your neck and shoulders so it knows your proper height, and then the AI carefully performs a detailed scan of where your actual back is located automatically adjusting to you.
Automatic detection of shoulder position

Locates your neck and shoulder

Automatic detection of backline

Accurately scans your body shape and muscle locations from neck to tailbone

AI creates a 3D image of your body shape and predicts the muscles to focus massage on
AI drives two kneading balls to deliver a more complex and unique massage experience
that we've been refining in Japan for over 20 years
5D-AI Mecha PLUS
NEW
AI and quiet high-performance brushless motors perform complex massage techniques that feel like they are real human hands. This smooth life-like massage is adjusted in real time, according to your unique body to relieve stiffness when and where you need it.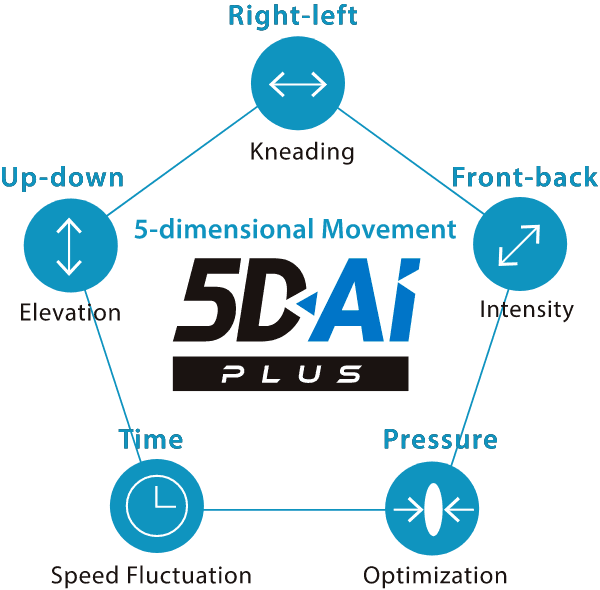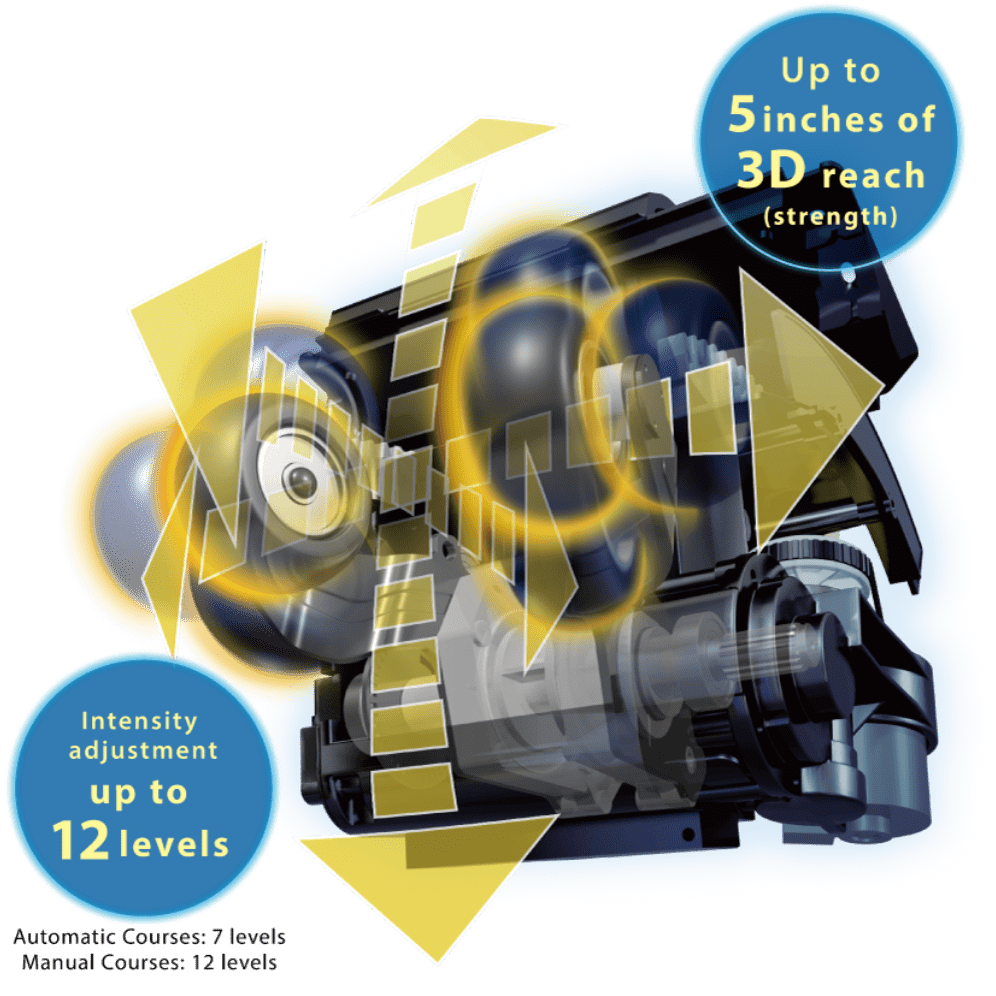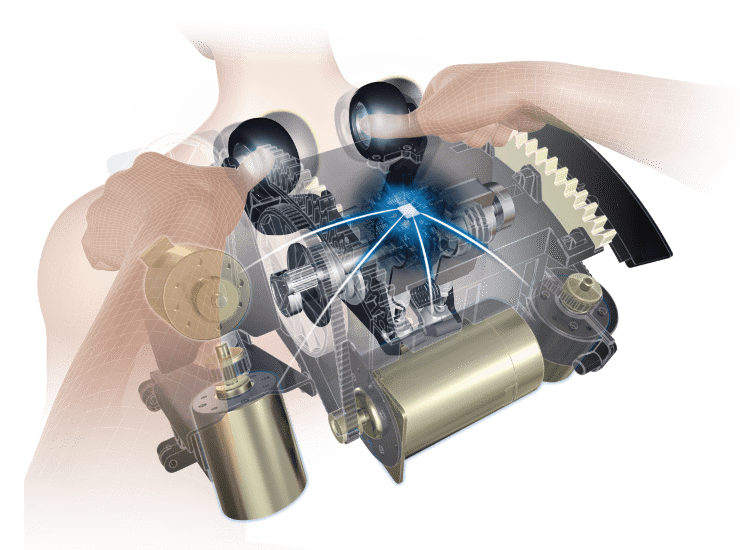 AI and brushless motors perform high torque and high precision massage.
Kneading action of 5D-AI Mecha
Smooth Approach

Kneading is done using variable speeds and pressures to feel more life-like.

Thorough Shiatsu

Shiatsu is carefully applied using varying prolonged pressure and precise movement.

Firm Kneading

Deep Kneading is therapeutically applied using AI data and the deep 5in 3D reach.
Deep Tissue Foot Massage
Airbags carefully wrap the foot and ankle perfectly holding and massaging while a robotic shiatsu foot roller performs deep tissue massage along the plantar fascia.
3 Levels of Intensity

Foot Roller Massage

By regulating the strength of the air bag holding ankle and instep, the intensity of the foot roller can be adjusted in three levels. According to preferences, the foot roller can also be turned off.

Fits Tall Users (up to 6'4)

Double Leg Extension - Extend the motorized legrest and if you still need more space push down to extend the secondary spring extension. Nearly 9in of extension.
38 Course Menus creating a special experience every day
Find your perfect massage with 38 auto-courses to choose from. 23 Full body and 15 focused let you find the perfect program for you.
The large screen is easy to read and operate
4.3" Full Color Touch Screen Remote Control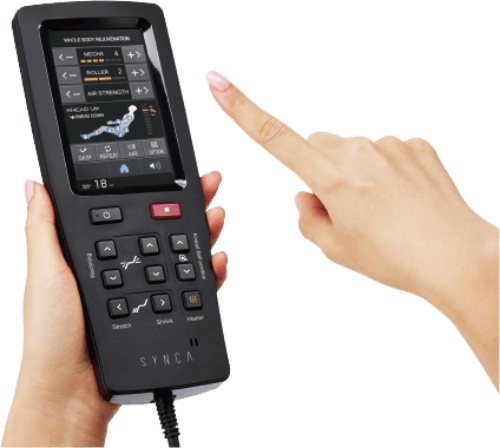 An easy-to-understand voice guidance help with each step.
Voice Guidance Function
The impressive number of menus allows you to choose the perfect massage to match your daily level of fatigue.
23 Types of Automatic Full Body Courses
30-minute Courses
VIP Course

You'll receive a relaxing spa and salon like experience by flawlessly executed massage targeting the body parts most prone to stiffness.

Elite Therapy

Enjoy a luxurious and comfortable massage as if you were being massaged by multiple masseurs at the same time.

Night Healing

An effective stretch and massage course, ideal before bedtime.

Conditioning

NEW
A stretch course focused on slowly and thoroughly relaxing muscles of the whole body.

Mindfulness

NEW
A slow and comfortable Air massage to eliminate fatigue and tiredness of the whole body.
18-minute Courses
Whole Body Course

Extreme Rejuvenation

Rejuvenation

Refresh

Relax

Soft

Neck/Shoulder Course

Extreme Rejuvenation

Rejuvenation

Refresh

Relax

Waist Course

Extreme Rejuvenation

Rejuvenation

Refresh

Relax

Stretch Course

Extreme Whole Body Stretch

Whole Body Stretch

Whole Body Air

Technical Stretch
7-minute Course
Quick Course

Course effectively relieving the whole body in a short time.
7-Minute short courses that focus on soothing specific body parts.
15 Part Focus TechniquesUnique Functions
6 Kneading Massage Techniques
Neck Focus Massage

Waist Focus Massage

Shoulder Focus Massage

Sciatic Focus Massage

Shoulder-blade Focus Massage

Foot Focus Massage
6 Stretching Massage Techniques
Neck Stretch

Shoulder Stretch

Back Stretch

Leg/Knee Stretch

Waist Stretch

Arch Stretch
3 Body Trunk Techniques
Back/Body Trunk Relax

Waist/Body Trunk Relax

Pelvis Core Stretch
The "power" and "technique" of the two kneading ball massage robot allows for the highest precision massage. 4 kneading ball chairs can only target an area as narrow as 5-6inches, but the JP3000 can target an area as precise as 2inches.
98 Massage Techniques including 53 Different Kneading Techniques
Wavelet

Working horizontally while traveling up or down a blend of kneading, tapping and rolling techniques effectively reduce muscle tension

Tapping Spiral KneadNEW

A hybrid blend of kneading massage that penetrates more deeply by combining deep tapping while moving in a spiral motion.
Rubbing MassageNEW

Kneading while rubbing, smoothly relaxing the muscles.

Irregular Waves WaveletNEW

Deep muscle massage through quick kneading and tapping.

Tapping Precision Spiral KneadNEW

Small circular motions to relax stiff muscles.

Upward Lifting/Downward PressingNEW

Kneading slowly and deeply while stretching the muscles through pressing and lifting movements.
A chair that remembers you.
User Customized Mode
NEW
Two user profiles let you quickly jump into your favorite massage by storing all the details that make you unique. Your shoulder position, the shape of your back, your unique strength settings, and your perfect recline angle are all stored for you.
step 1Body Shape Information Detection

AI Double Sensing +

First the chair detects your neck and shoulder, and then it completes a detail mapping of your back. The AI uses this dual layer body scan data to automatically optimize the massage for you.

The AI creates a 3D rendering of the user's body shape and predicts the points of tension.

step 2Adjusting the massage strength from neck to hips.

Customized massage strength

After the AI customizes the massage to your body you can adjust the massage strength to deliver exactly as strong of a massage as you like.

step 3 Adjusting the incline and recline of your legs and back

Customized Reclining Angle

After your AI body scan and strength adjustments are complete you can find the perfect recline angle to enjoy your massage.

step 4Fine-tune the compression massage

Customized Air Massage

After the chair learns your body shape, ideal strength of massage, and perfect reclining angle you can fine-tune the compression massage by controlling 8 different regions to find the perfect massage for your body.

*Most other massage chairs offer 1-2.
WELLNESS
A massage that relaxes and stretches the muscles creating balance, reducing fatigue, and promoting wellness.
Using expertly positioned airbags and precise strength adjustments the air massage will perfectly fit your body.
High-efficiency Air Pressure System
You can adjust 8 different regions of air cells using 7 levels of strength to find the perfect massage for you. Once you've found the perfect fit you'll be able to experience air pulse massage that promotes blood circulation through regular use. You can also enjoy the air massage mode which offers variable speeds of compression that better replicate human hands.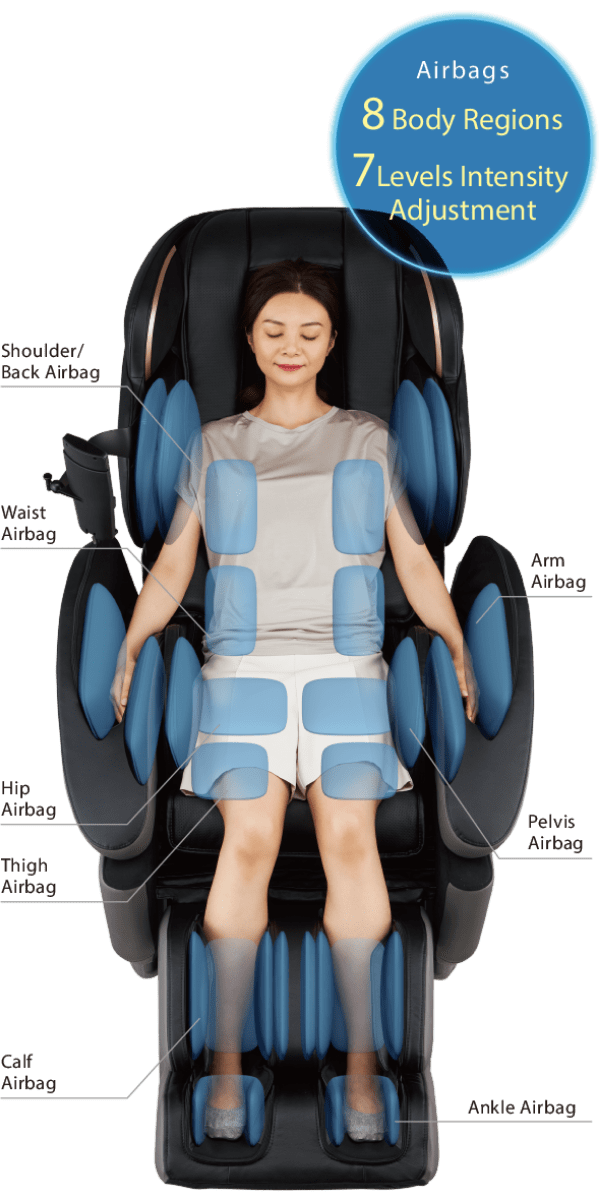 Shoulders/Back

Shoulder/back Massage
(7 levels of adjustment)

A wrapping sensation massage,
from the shoulders to the back.

Waist

Waist Massage
(7 levels of adjustment)

Loosens a wide range of muscles, from
around the pelvis to the back of the knees.

Arms

Arm Massage
(7 levels of adjustment)

Massage from the the elbow to the fingertips.

Legs

Legs Massage
(7 levels of adjustment)

Pulsating compression firmly but gently wraps the feet and calves stimulating blood flow and reducing tension.

High-speed Inflation Airbag SystemExclusive Function

The built-in high-flow and high-pressure air pump allows the high-capacity airbags to operate powerfully, enhancing the massage effect.
Enjoy relaxing stretch massage for your whole body or just one part to help you recover from your day.
Diverse Stretching Menus
5 Types of Full Body Stretch
Stretching that carefully tunes up the whole body (30 minutes)
Everyday full-body Stretch Menu (18 minutes)
Technical Stretch

Extreme Whole Body Stretch

Whole Body Stretch

Whole Body Air

6 Types of Region-focused Stretch
Your shoulder are stretched by the chair lifting you up, gripping your shoulders,
and then releasing you while still gripping your shoulders.

A gentle stretch that slowly bends your body while pushing up on your lumbar.

Stretch menu that focuses on the knees

Power Stretch

Double StretchExclusive Function

While airbags hold your legs and hips, your legs are pulled downward and forward, stretching the lower body and relieving muscle tension in hard-to-reach places.

Exclusive FunctionsKnee Stretch ≫ Legs Stretch
THERAPY
Experience a total body relaxation that will reduce stress, tension, and help you feel better.
Bluetooth®Supporting Speakers
Specially designed left and right bass-reflex speakers are placed near the ears to achieve a luxurious sound- surrounded space.
Clear Voice Sounds

Built-in Multi-band Equalizer

Stereo Sound

Built-in DSP Digital Speakers

Rich Output Sound Range

Full-range Speakers
The Bluetooth® typeface and logo are registered trademarks of Bluetooth SIG, Inc. and Fujiiryoki Ltd. is authorized to use the above marks.
All other trademarks and company names are the property of their respective owners.
Double Heating
Enjoy therapeutic heat in the feet and upper body to provide a warm relaxing massage experience. The upper body heater can be left behind you to heat your back, or placed in front of you like a heated blanket.
Foot Heater

Gentle heat to keep your feet warm

The heat system can be used without massage.
The heater is designed to be mild and not too hot to the touch.

Quick- Heat Multi-heatersExclusive Function

The pads with built-in warming function can be placed behind the back to warm up around the waist, or can be unzipped and placed on the front to warm around the abdomen.

Waist warming

Abdomen warming
Mindfulness Course
[automatic]
NEW
Based on the concept of "meditation" you'll enjoy a calming 30-minute massage using airbag compression only.
The slow air massage movements carefully and gently soothe the entire body.
Total Relax Position
NEW
Enjoy enhanced relaxation in a near lay-flat position.
This position is not just extremely comfortable, but you also get a superior stretch and back massage in this position.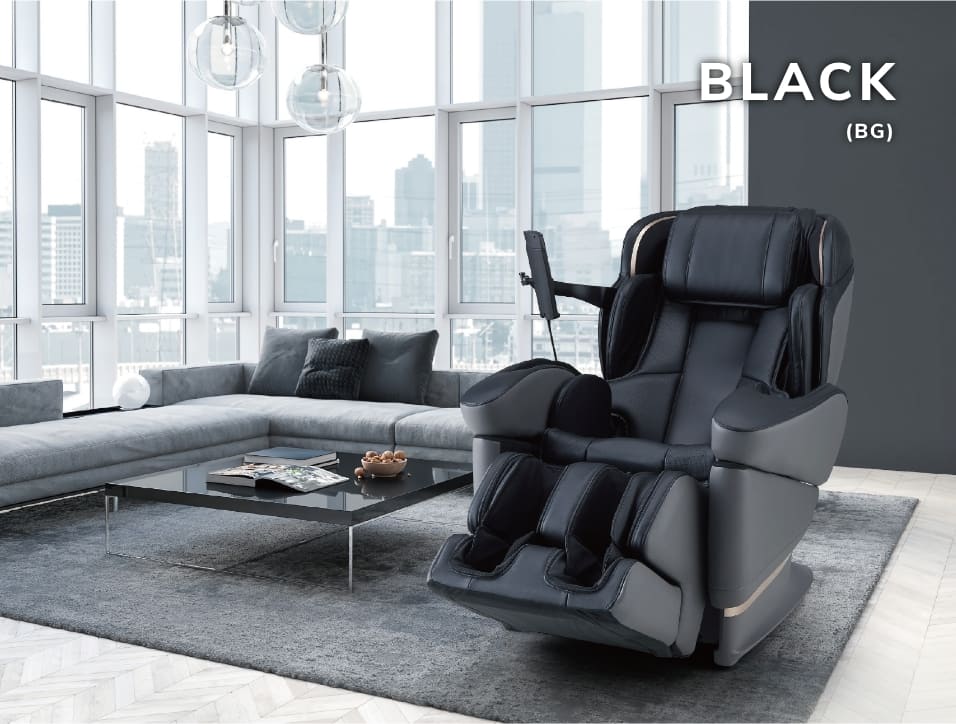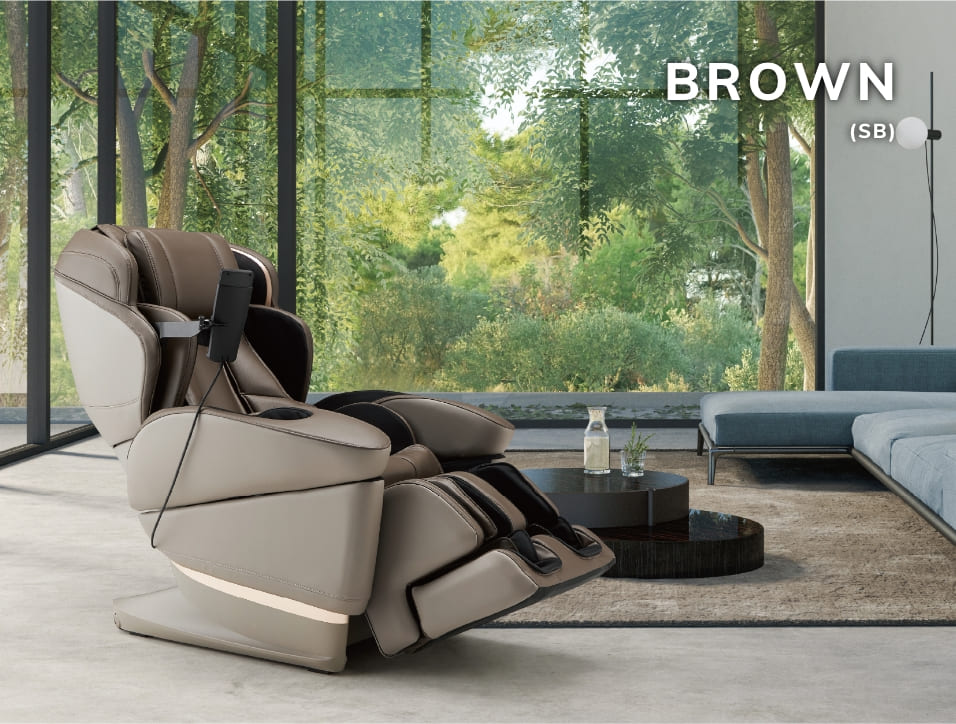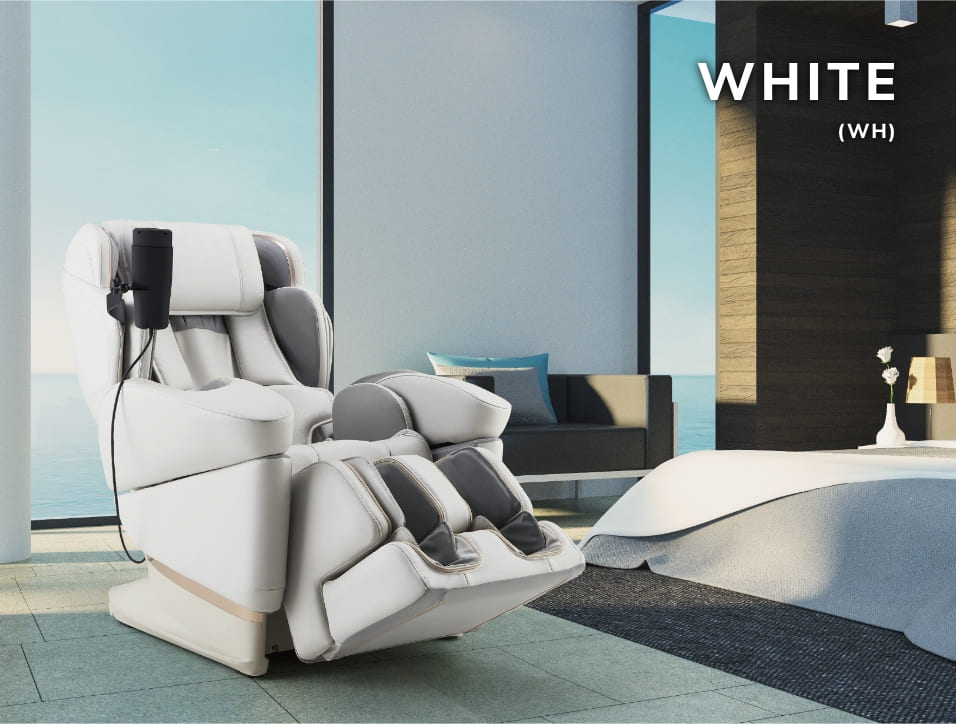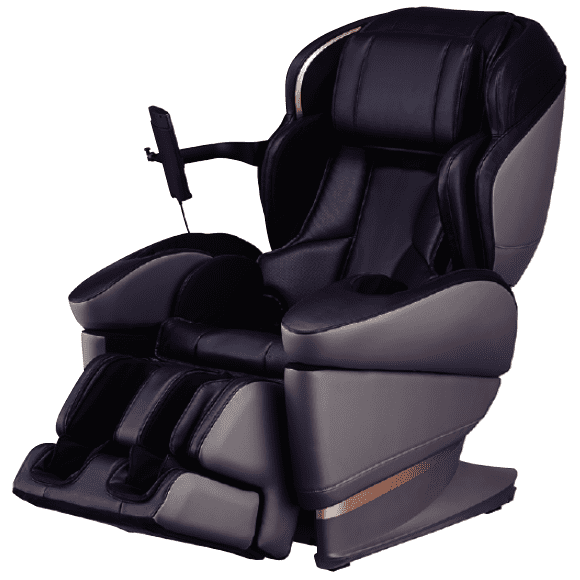 Black (BG)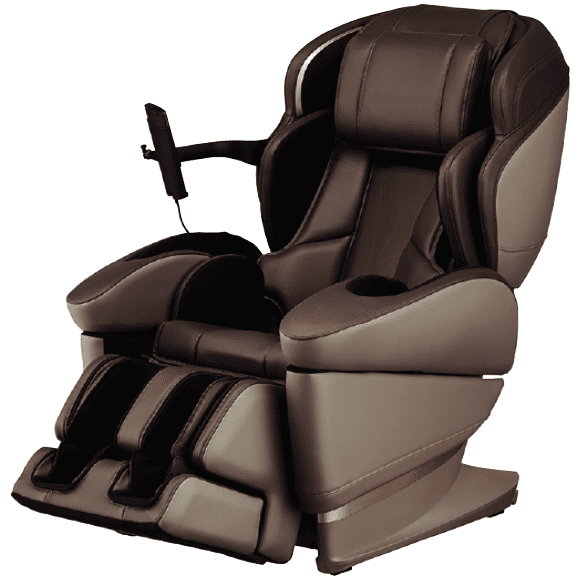 Brown (SB)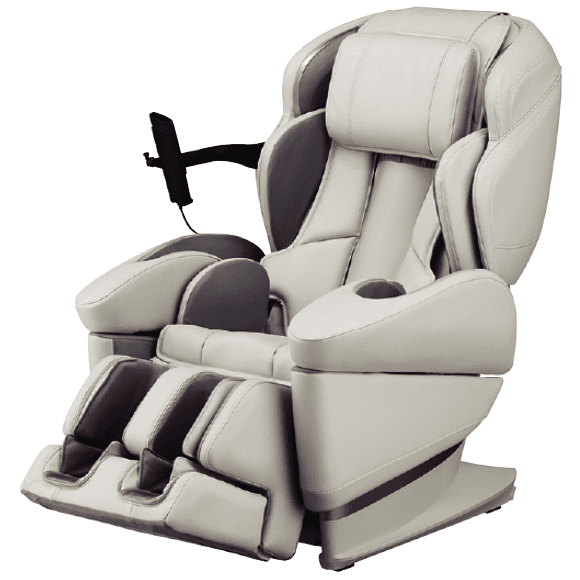 White (WH)
PRODUCT SPECIFICATIONS
Product Name

CYBER-RELAX JP-3000 Massage chair

Dimensions

(with tucked away footrest)
about W86 x L141 x H124 cm / W34 x L55.5 x H49 in

(reclined and with extended footrest)
about W86 x L212 x H73 cm / W34 x L83.5 x H29 in

(width including remote control holder: about 90 cm / 35.4 in)

Country of Origin

Made in Japan

Minimum width before assembly

about 28inch

Reclining angle

about 117~164 degrees

Weight

about 96kg / 217lb

Power source

100-240V (50/60Hz)

Power consumption

125W / heater on, 100W / heater off

Timer

30 minutes
(automatic timer 7/18/30 minutes)
SYNCA JP-3000 by FUJIIROKI
How to Install Your JP-3000 Massage Chair